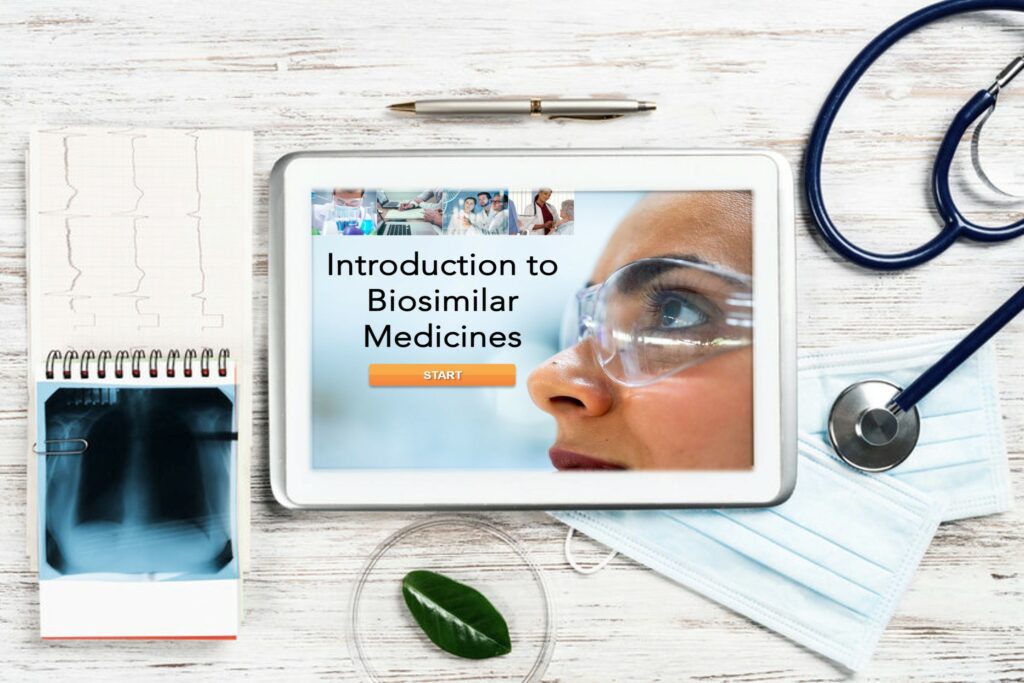 CATEGORY: HEALTHCARE
TITLE: INTRODUCTION TO BIOSIMILAR MEDICINES
PROJECT BACKGROUND
The era of biosimilar medicines is just beginning! Biosimilars are biological medicines that are very similar to previously approved reference biologics on the market. They bring lifesaving treatments to patients battling cancer and other chronic illnesses. I designed this course to provide background on the development, uses, and issues associated with biologics and biosimilars to individuals advocating for cancer patients.
Responsibilities: Instructional Design, eLearning Development
Target Audience: Advocates who needed an understanding of the medical research system, scientific concepts, and safeguards for research participants
Tools Used: Articulate Storyline, PowerPoint, Adobe Photoshop, Camtasia Studio
Budget: Low to Medium
MY DESIGN APPROACH
For the design phase of the project, I wanted to achieve three goals:
Present information in a visually engaging way
Provide additional resources outside of the self-paced course
Effectively communicate highly complex informaiton to non-medical professionals
HOW DID I ACHIEVE THE GOALS?
Due to the amount of information I needed to convey, I segmented the course into four modules:
Module 1: Basics of Biologics
Module 2: Establishing Safety of Biosimilars
Module 3: Current Issues with Biosimilars
Module 4: Key Issues for Stakeholders
After completing the course, learners could generate a certificate of completion and participate in an accompanying discussion group via the learning portal.
I utilized professionally-narrated audio, hi-resolution graphics, a glossary of terms, and additional references via the course player to engage the learner. I incorporated knowledge checks to ensure the learner retained information as they progressed through each module and gave them several opportunities to interact with the information provided. I utilized their color palette and fonts throughout the course to maintain a consistent look with the client's existing materials. 
Finally, to effectively communicate highly complex topics, I looked at the materials from the audience member's perspective.
What did they know?
What terms or concepts might be confusing to them?
What "language" do they use?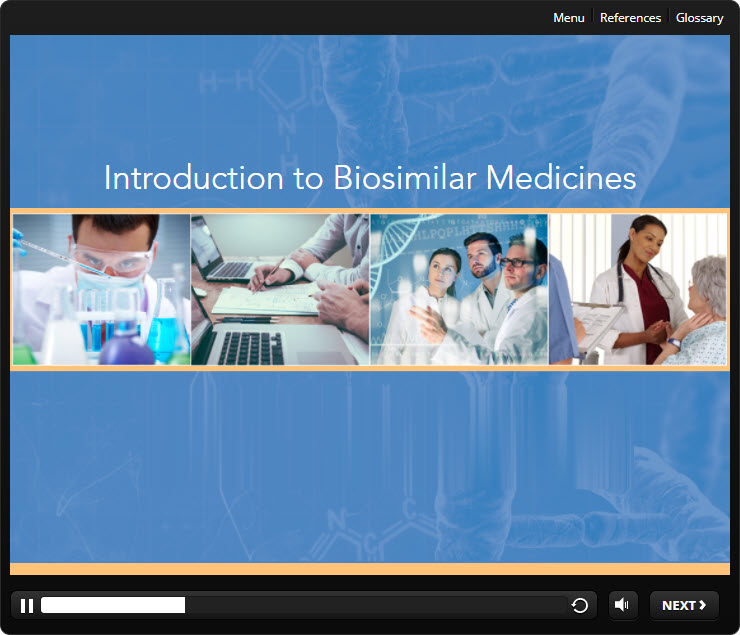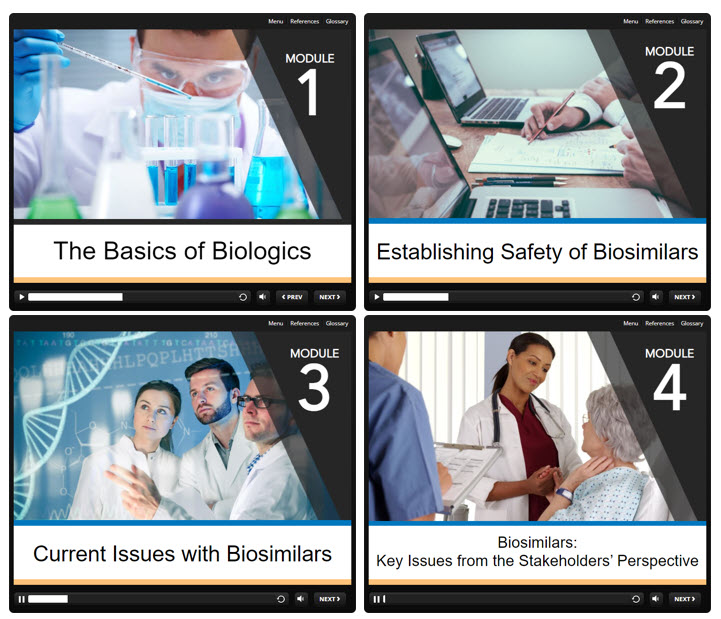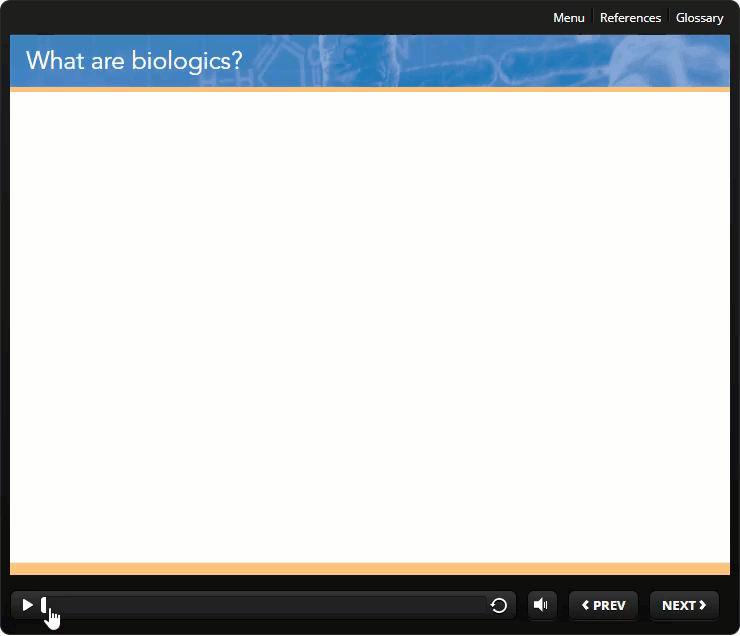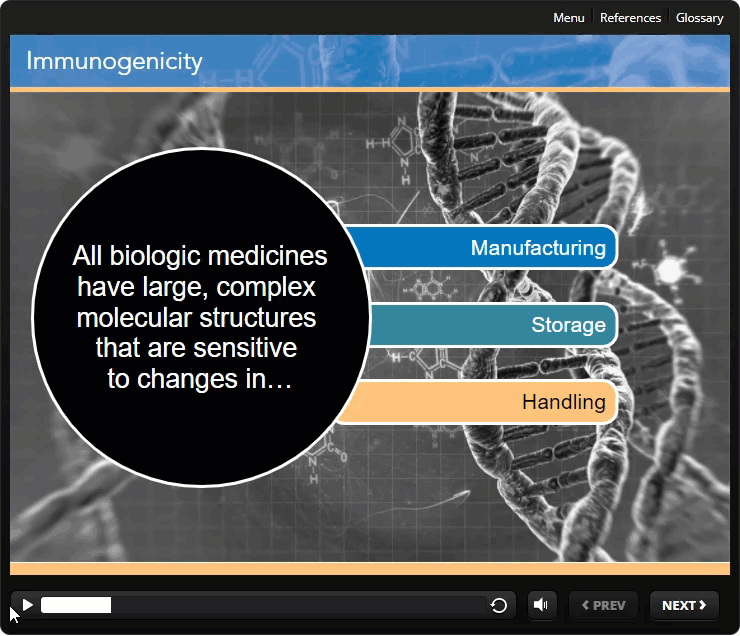 Do you need a similar course? If so, contact me today! I would love to work with you and your team to design and deliver training that engages your employees and helps drive change within your organization.
Click here to view more projects.