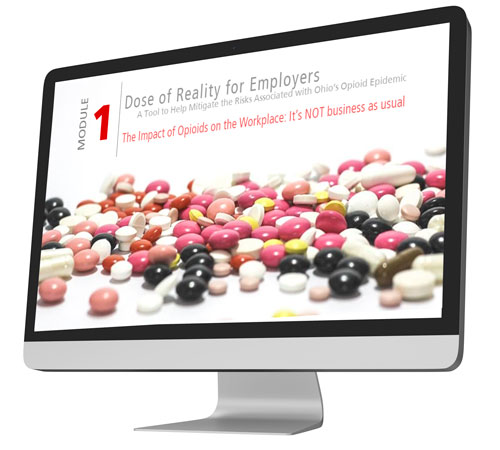 CATEGORY: COMPLIANCE, EDUCATION
TITLE: DOSE OF REALITY FOR EMPLOYERS
PROJECT BACKGROUND
This 5-module course provided an overview of the legal and operational issues an employer must consider in dealing with an employee's use of opioids and other substances. The modules included best practices around how, when, and why to drug test; how to handle a situation if the employee confesses or is discovered to be using harmful substances; and much more.
TECHNOLOGY USED: 
Articulate Storyline
PowerPoint
Adobe Photoshop
Camtasia Studio
OUR DESIGN APPROACH
For the design phase of the project, we wanted to achieve three goals:
Ensure the course could be viewed on iPad Pro devices
Create a modern design that was appealing to the learners by utilizing the basic principles of design (contrast, repetition, alignment, proximity, unity, and simplicity)
Deliver time-sensitive information and resources that would help employers manage the risks associated with the opioid crisis facing their community
ENSURE COMPATIBILITY WITH IPADS
To ensure the course would work on the iPad Pro, we:
Performed multiple tests to ensure graphics, navigational and interactive elements functioned and displayed as expected
Optimized images to reduce bandwidth requirements across mobile devices
Designed a separate tutorial that explained how to navigate the module from both a desktop and iPad perspective
Published to HTML5 from Storyline 360 and tested across all major browser platforms
CREATE A MODERN DESIGN
A good design not only makes it easy for learners to learn the material, it also affects the perceived credibility of the content and the professionalism of the designer. To achieve this goal, we focused on and applied the six principles of relevant to e-Learning: Contrast, Repetition, Alignment, Proximity, Unity and Simplicity
Red, gray, and black were the three colors used in the design of the modules.
Red conveys attention and demands action
Black complements red by bringing a sense of "style" to the overall visual look of the modules
Gray, a cool neutral color, provided a complementary accent for the design
Throughout the modules, we emphasized keywords and ideas, using color and a variety of different font weights to create contrast
Icons were reused throughout to create repetition and further enhance the design and clarity of information
Images used were selected to not only reinforce text but to convey the key messages in the content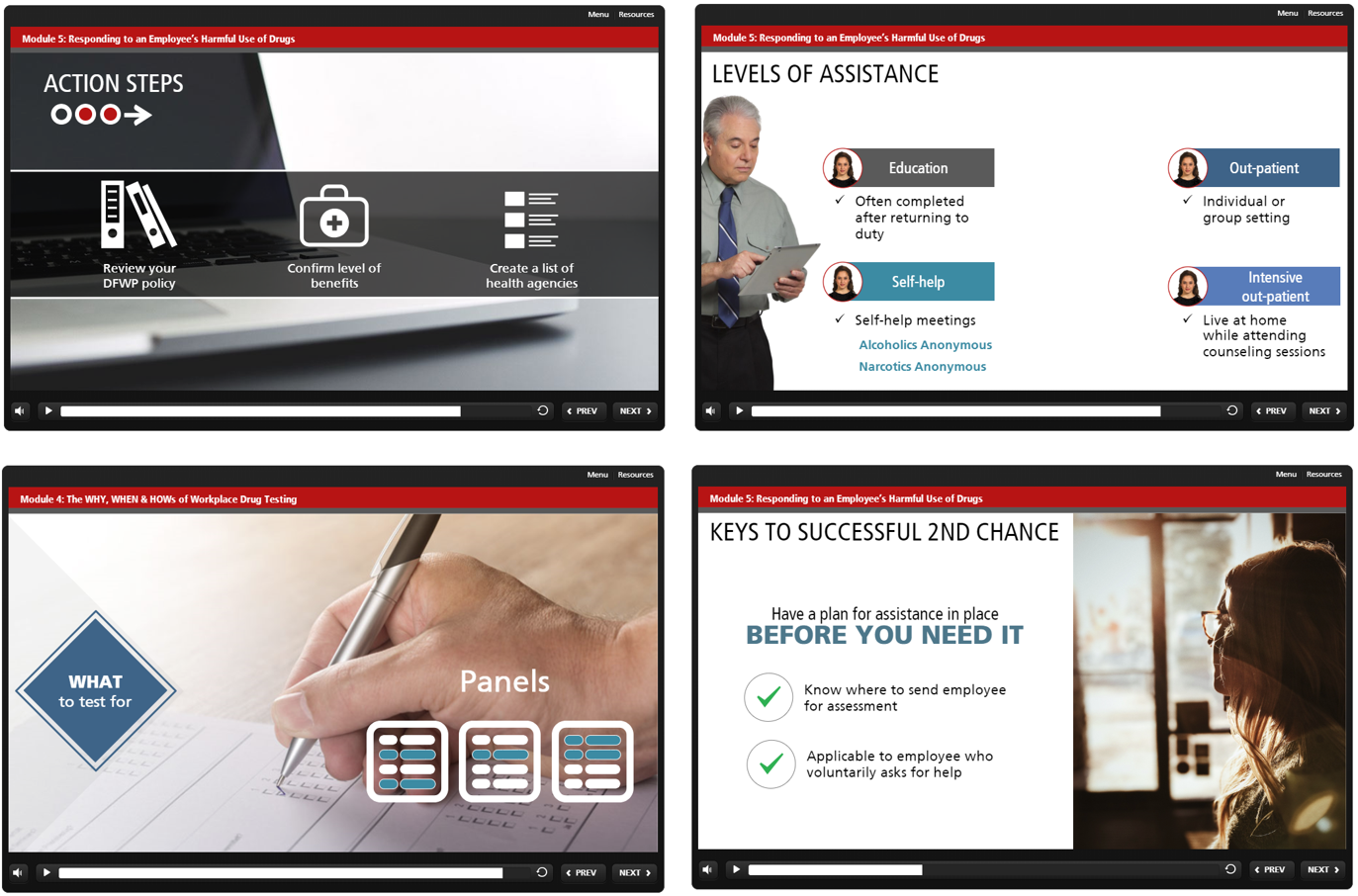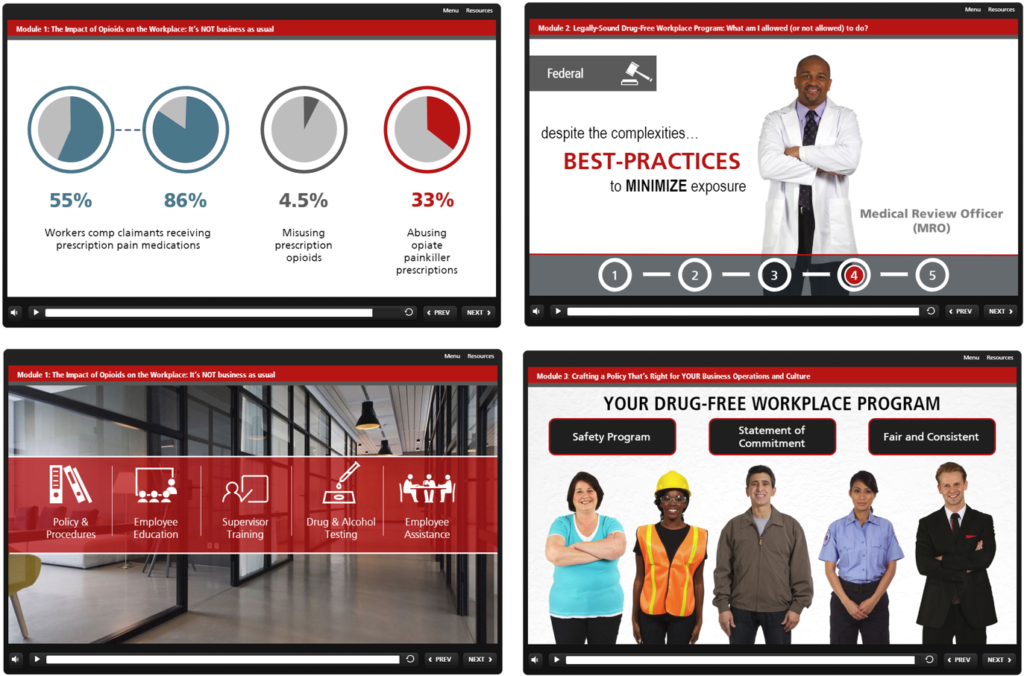 DELIVER TIME-SENSITIVE INFORMATION/RESOURCES
According to the National Institute on Drug Abuse, every day, more than 115 people in the U.S. die after overdosing on opioids. The Centers for Disease Control (CDC) estimates that the total "economic burden" of prescription opioid misuse alone in the U.S. is $78.5 billion a year, including the costs of healthcare, lost productivity, addiction treatment, and criminal justice involvement.
When we were approached to design and deliver this course, time to market was critical. Ohio's employers were asking what they should do about the opioid problem in their own workplaces. We started this project in mid-November 2017 and delivered it to the client on January 5th, 2018. A month after releasing this free resource, available to all Ohio businesses, the Opioid Toolkit received over 4,000 visitors and coverage in at least 11 news outlets!
---
Do you have the need for a similar course? If so, contact us today! We would love to work with you and your team to design and deliver training that not only engages your employees but helps drive change within your organization.
Click here to view more of our client projects