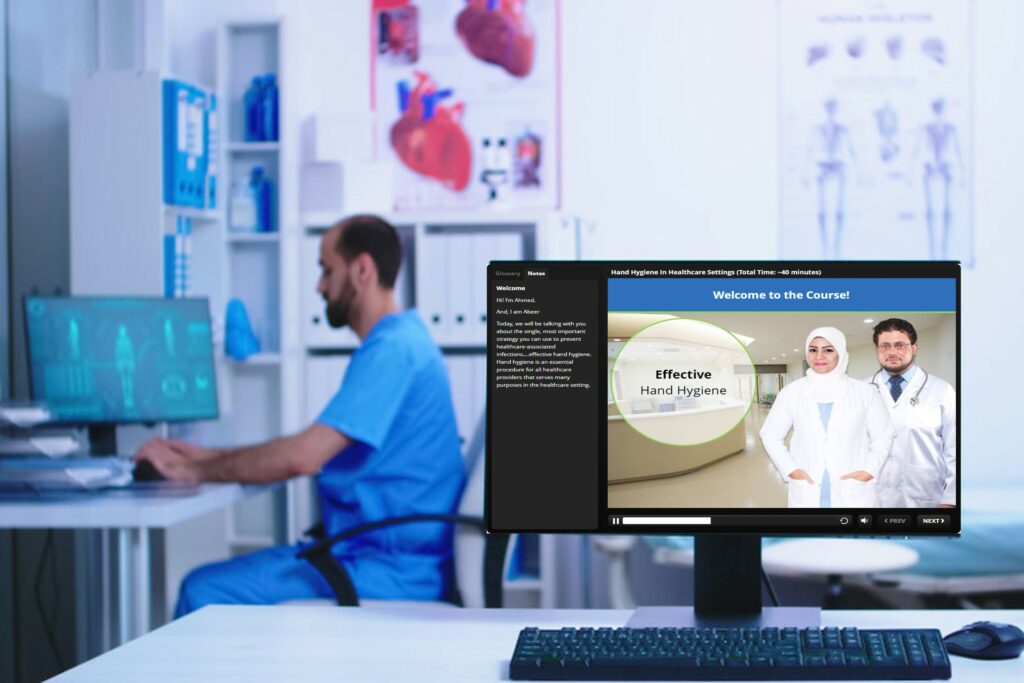 CATEGORY: HEALTHCARE
TITLE: HAND HYGIENE IN HEALTHCARE SETTINGS
PROJECT BACKGROUND
The goal of this course was to supplement traditional training for one of my international clients. They wanted the course to impact the daily practices of healthcare personnel and serve as a precursor to the implementation of on-site monitoring of hand hygiene practices. Healthcare-associated infections are the most adverse event affecting hospitalized patients and staff. The goal of this course was to promote the consistent application of proper hand hygiene practices by healthcare workers (doctors, nurses, technicians, etc.) in Saudi Arabia.
Responsibilities: Instructional Design, eLearning Development
Target Audience: Nurses and technicians working in healthcare settings
Tools Used: Articulate Storyline, PowerPoint, Adobe Photoshop, Camtasia Studio
Budget: Medium to High
MY DESIGN APPROACH
For the design phase of the project, I wanted to achieve the following goals:
Break the information into time-manageable sections allowing the learner to navigate freely through the course.
Incorporate a glossary to facilitate non-medical personnel's understanding of terminology.
Utilize culturally appropriate images for the target audience.
Incorporate screen and knowledge-based interactions and videos as much as possible to make the content more engaging.
Ensure the learner's view and interact with all course sections before taking the final assessment.
Design a final assessment so data could be tracked and trended to identify areas for improvement.
BREAKING THE CONTENT INTO TIME-MANAGEABLE SECTIONS & INCLUDING A GLOSSARY FOR NON-MEDICAL PERSONNEL
I divided the course into five micro-modules allowing the learner to navigate freely between sections. A glossary provided definitions of medical terms which the learner could access at any point in the course. I also provided a transcript using the Storyline Notes tab.
UTILIZING CULTURALLY APPROPRIATE IMAGES FOR THE TARGET AUDIENCE
I used both a female and male guide aligned with my client's culture and organization to keep learners engaged. I also employed two professional voice-over artists to record scripts I wrote. Images chosen for the course were selected and designed to align with the healthcare settings the target audience was most likely to encounter.

INCORPORATING INTERACTIONS
I designed eight interactions that allowed learners to explore the topics in more detail. I provided visual indicators to inform the learner of their progress.


INCORPORATING VIDEOS
With hand hygiene, the learner must see the appropriate steps of hand hygiene. To accomplish this, I incorporated videos with captions that demonstrated the appropriate steps and when they must occur in the healthcare setting. I also adjusted clip speeds to slow down the process allowing the learner to see each distinct step. I included videos in the final assessment to test the learner's ability to recognize when individuals were not performing proper hand hygiene techniques during daily interactions with patients.
ENSURING THAT LEARNERS INTERACT WITH CONENT
Learners were required to view all of the material before taking their final assessment. I used Storyline triggers and variables to track which interactions and screens the learner completed.
TRACKING FINAL ASSESSMENT DATA
I designed the product to support quality improvement initiatives and tested the SCORM package on an industry-standard LMS.
---
Do you need a similar course? If so, contact me today! I would love to work with you and your team to design and deliver training that not only engages your employees but helps drive change within your organization.
Click here to view more client projects.