CATEGORY:  EDUCATIONAL
TITLE: HIRAGANA CHALLENGE
PROJECT BACKGROUND: This project was completed for a local middle school/high school that encouraged its students to learn through an international lens as thoughtful, compassionate world citizens. Our goal for this project was to provide an engaging way for the students to study their hiragana.
TECHNOLOGY USED:  Articulate Storyline 360, PowerPoint 2016

PROJECT BACKGROUND: The opportunity to create the Hiragana Challenge project came through my daughter who is currently studying Japanese. She wanted a fun and engaging way to study the characters in preparation for an upcoming exam. The final product was donated to her local middle school/high school.
Hiragana and katakana are the two basic Japanese phonetic scripts or alphabets that are the keys to learning basic Japanese. Developed from Chinese characters, it was originally called onnade or "women's hand" as it was mainly used by women – men wrote in kanji and katakana. When the 10th century rolled around, hiragana was used by everyone. The word hiragana means "ordinary syllabic script".
OUR DESIGN APPROACH: The original idea for the design was to use a flash-card approach. The learner selects a card, determines its meaning, and then flips the card over to see the answer. After creating a few mock-ups for this design, I wasn't happy and decided to take a different approach… one that used more of a card game design/feel and tracked the user's progress.
The images of the Samurai used on the title screen, and all other images in the game were created in PowerPoint 2010.
There are 10 questions, each worth 10 points for a total of 100.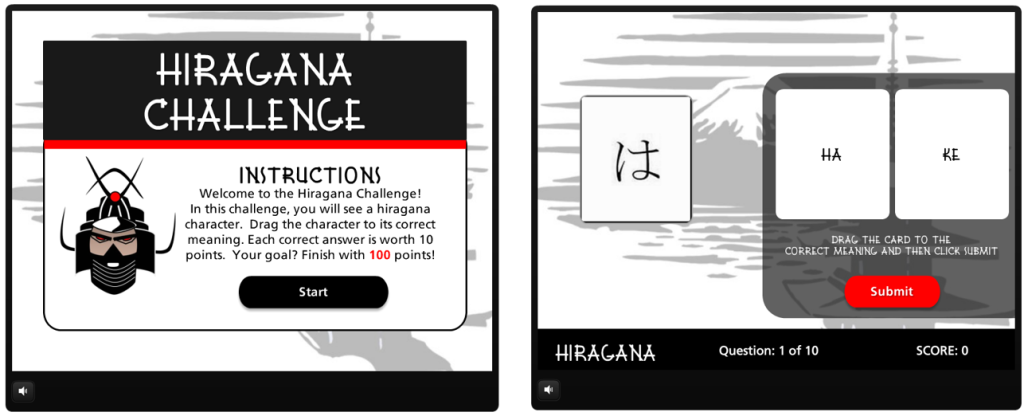 Do you have the need for a similar course? If so, contact us today! We would love to work with you and your team to design and deliver training that not only engages your employees but helps drive change within your organization.
Click here to view more of our client snapshots.