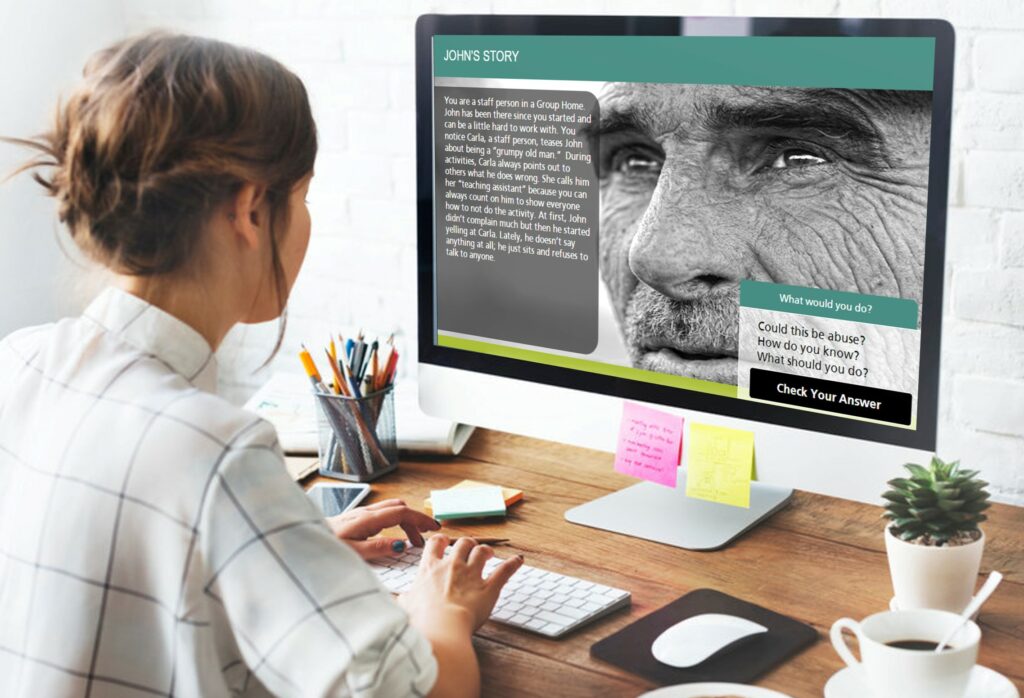 CATEGORY: COMPLIANCE, NON-PROFIT
TITLE: INTRODUCTION TO MANDATORY ABUSE REPORTING
PROJECT BACKGROUND
The primary purpose of this project was to update my client's current hard-copy training materials to incorporate online learning, ensure consistency with state-defined Administrative Rules, and more thoroughly train staff regarding their responsibilities. The online approach was vital to delivering training to new staff who needed to complete the course before observing operations in their area of assignment. The use of short, workplace-relevant case studies facilitated a basic understanding of legal reporting requirements.
Responsibilities: Instructional Design, eLearning Development
Target Audience: Employees who worked with children and adults with intellectual and developmental disabilities throughout the organization.
Tools Used: Articulate Storyline, PowerPoint, Adobe Photoshop, Camtasia Studio
Budget: Low to Medium
MY DESIGN APPROACH
Capture the learner's attention quickly to set a serious tone for the course topic.
Engage and motivate the learner to explore the content and apply what they learned in their day-to-day workplace situations.
CAPTURING THE LEARNER'S ATTENTION
Although legal ramifications for reporting suspected abuse should be motivational enough for learners to pay close attention to the course content, there is also a human element. As part of the design, I wanted to capture the learner's attention quickly.
As mandatory reporters, those taking the course needed to understand they might be the only voice the abused have. To drive this message home, I designed an opening video with strong images and background music rather than having the learner jump right into the roles and responsibilities of mandatory reporters. Click the link below to see the opening video used in this course.
ENGAGING and MOTIVATING LEARNERS
Next, to engage and motivate the learner, it was essential to look at the course content from their perspective. For example, what questions would they have about the subject matter? I would later use these questions to help guide me in the design, course flow, and interactions I designed. Here is a sampling of the questions I came up with:
Why is this topic important to me?
Who are mandatory reporters anyway?
Do I have to be sure it's abuse before I report it?
What are examples of suspected abuse that I should be reporting?
Who should I report it to if I think someone is being abused?
How are investigations handled after I report the suspected abuse?
USING STRONG IMAGERY
To ensure the learner stored information in long-term memory, I ensured the design paired key concepts with meaningful images. I also used images of people the learner was most likely to encounter in their daily job functions to help strengthen the association. Here are a few examples used in the course.

INCORPORATING SCREEN and KNOWLEDGE-BASED INTERACTIONS
The screen interactions were designed to reduce clutter on the screen, making it easier for the learner to focus and absorb the content.

Knowledge-based interactions allowed the learner to apply knowledge gained from the course and participate in real-world situations they were most likely to encounter on the job. Each of these interactions provided detailed feedback to reinforce the content.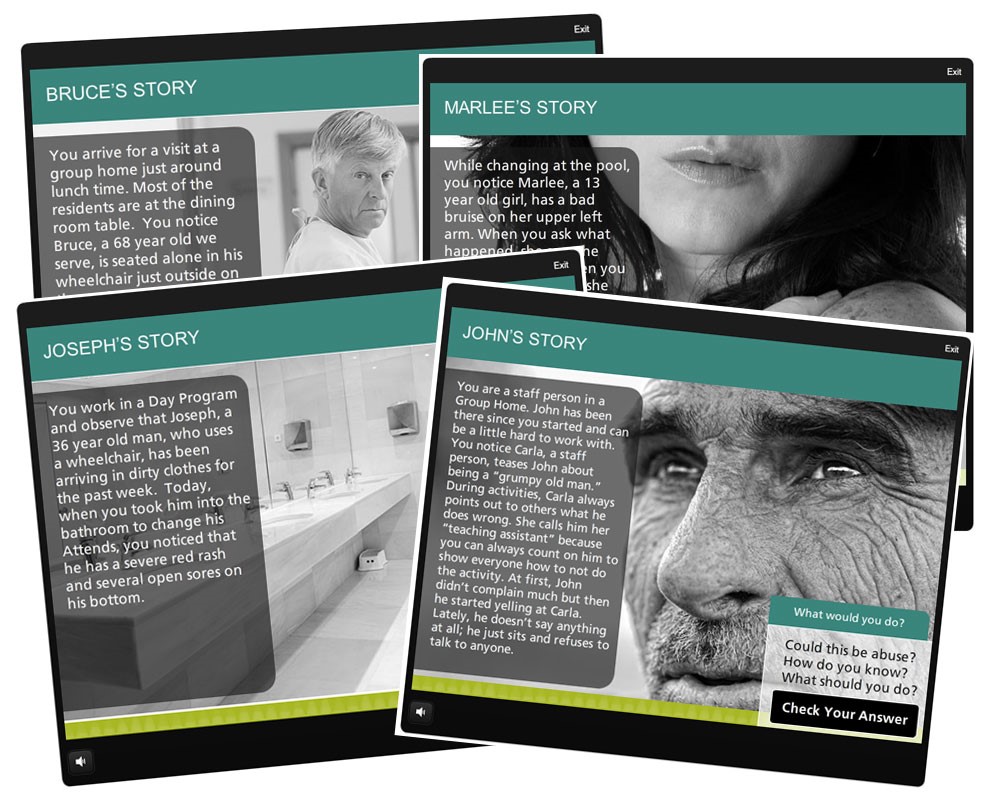 Do you need a similar course? If so, contact me today! I would love to work with you and your team to design and deliver training that engages your employees and helps drive change within your organization.