It's a fast-paced world out there; staying up to date with the latest advancements in the Articulate world is essential when creating engaging and impactful courses. Here are my "go-to" resources I keep bookmarked for quick access.
Articulate 360 Feature Roadmap
The Articulate 360 Feature Roadmap is an excellent resource for keeping up with Articulate 360 features the organization is working on regarding Rise 360, Storyline 360, Articulate 360 Desktop App, and Review 360. You can always request a product feature if you don't see something you think might be a valuable addition to their product.
Articulate 360 Version History
Once a feature is released, it will appear on the Articulate 360 Version History page. This comes in handy when you are experiencing a challenge with an Articulate product. For example, let's say the full-screen button stops working for a video you embedded as a web object in your current Articulate Storyline 360 project. Now, you might jump to the eLearning Heroes forum and search for someone with a similar problem, or you might post a question about why your full-screen button is not working. May I suggest a quicker and perhaps better approach?
If you check the Articulate 360 Version History, you'll see it's been addressed as of July 27, 2023 (Build 3.78.30747.0). Next, check your app to see what build you are using. For example, in Storyline 360, you can go to the Help tab on the Storyline ribbon and click About Articulate Storyline. In this example, the solution is simple. Upgrade to the current build, and your problem is solved!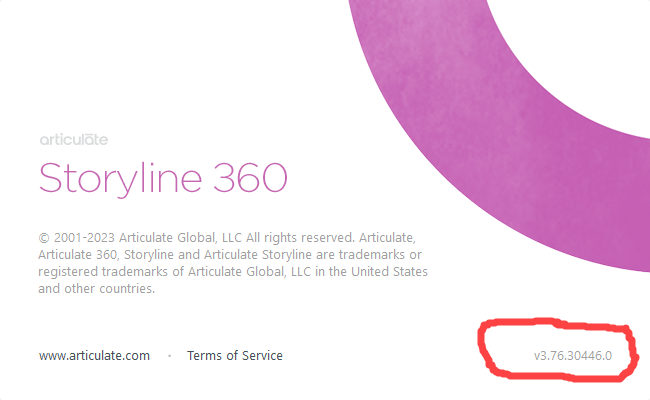 Articulate Feature Requests
If you don't see a feature you think should be added to one of Articulate's products, you can always submit a feature request. Of course, make sure you check the Articulate 360 Feature Roadmap first. It may already be in the queue.
Although Articulate has become more transparent with the addition of the roadmap, there is no guarantee that your feature request will make it into the queue. Still, submitting things you feel will make a difference is worth the effort.
For example, I would love to see a pop-up alert box if you have any hidden objects on a timeline before you publish. I often hide objects to make updates, and when I'm not paying attention, I notice them missing when I publish the module. So, having an alert box that says, "You have hidden objects on Slide 7. Would you like to publish anyway?" would be a great feature to add!
Articulate Server Health Status
If you are having trouble using any of Articulate's products, this is another excellent resource to create a shortcut to in your browser. Here you can find out if the Content Library is experiencing problems or if there are problems with the e-Learning Heroes forum keeping you from signing in.
For example, in the graphic below, when I hovered my mouse over the red bar for the E-Learning Heroes forum, I saw there was a partial outage on June 13, 2023, that lasted 3 hours and 17 minutes. I work a lot with Review 360, so it's good to know if a problem could be impacting my review cycle. I highly recommend you subscribe to updates on this page to receive emails when there is a problem.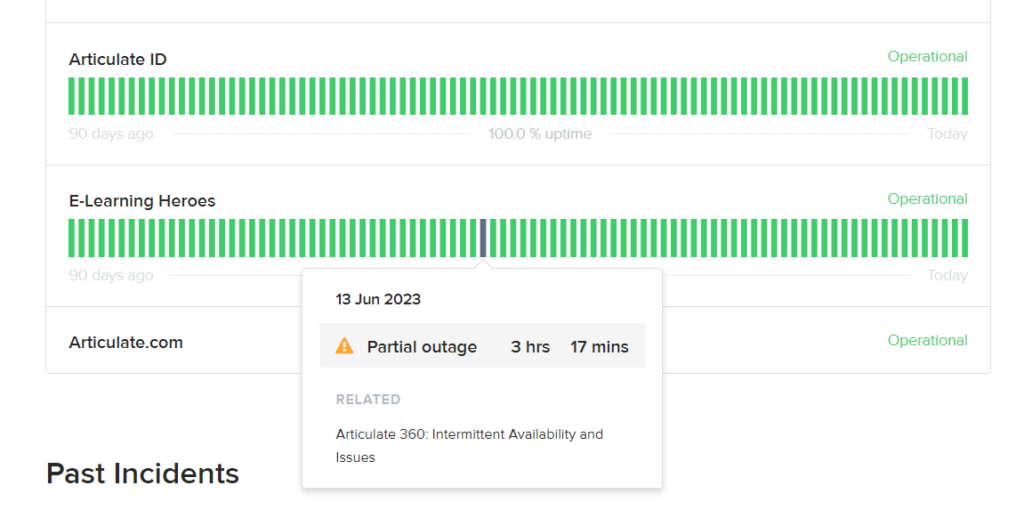 Articulate's Storyline Discussion Forum
Articulate's Storyline Discussion forum is the place to go for all types of tips and help. I try to help someone on the forums at least once per day if time permits. One of the things that will help improve your odds of getting the help you need is to do the following:
Clearly explain your problem: Explain what you are trying to achieve, what you have attempted so far, and what specific difficulty or errors you encountered. Be concise as possible.
Attach relevant files: It is always beneficial to attach your .story file to your post. This allows forum members to analyze the project and identify the issue directly.
Provide system and software details: Which version and build of Storyline are you using?
Be patient and courteous: Remember, those of us who help others on the forums are volunteers who generously offer our time and expertise. If you don't receive an immediate response, don't get discouraged. It might take some time before someone knowledgeable about your issues sees your post.
Articulate's Building Better Courses Discussion Forum
While the previous paragraph explains how to get help on the Articulate Storyline Discussion Forum, the same applies to the Building Better Courses Forum too! Sometimes, people post questions related to building better courses in the Storyline Discussion Forum and vice versa.
Articulate Support (Articles, Tutorials, User Guides)
Articulate's Product Support page covers all of its product lines. By selecting your product from the list provided, you can browse support articles, watch tutorials, access User Guides, and see the latest version and its last release date.
Are you looking for tech specs? Do you need to download the Articulate 360 Desktop App? This is the place to go! Many times, I see people post on the forums asking about what type of system they should purchase to support Storyline 360. The System Requirements page is a great place to start understanding hardware and software requirements and determining compatibility and integration details.
Articulate Tutorials & User Guides
Articulate provides a ton of free resources via the Articulate Tutorials & User Guides page. Do you need a list of keyboard shortcuts for a product? What about how to import slides from PowerPoint? Maybe you want to learn how to create and manage Question Banks. Answers to these questions and many more or right here! Free for the taking and easy to navigate!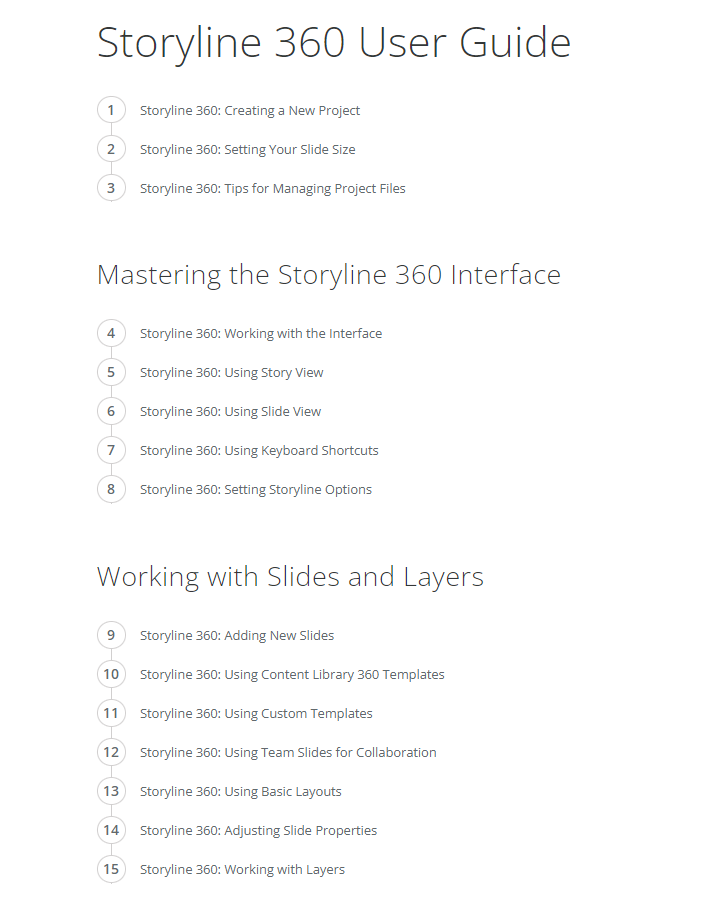 Articulate Downloads
This is one area of Articulate's site that I think most people find in the very early stages. Here you can download course assets (e.g., backgrounds, buttons, fonts, graphics), templates, storyboards, and even shortcut aids for all their products.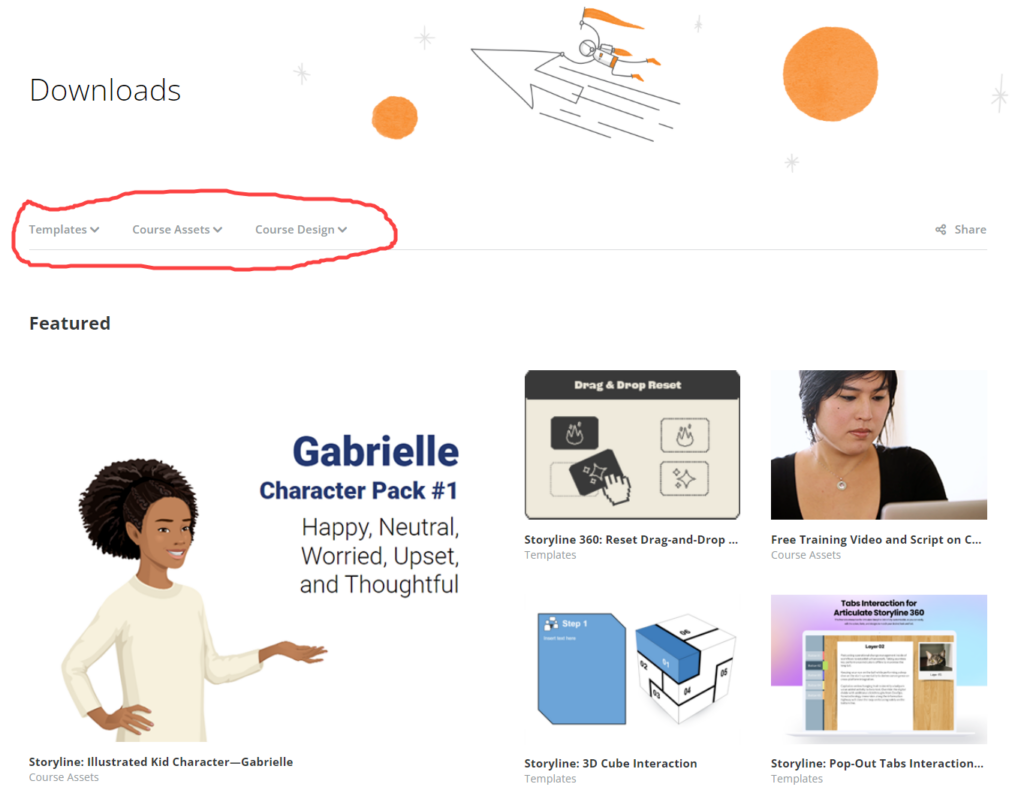 E-Learning Samples
If you are looking for new ideas, the Articulate E-Learning Samples page will provide you with access to examples provided by Articulate Pros worldwide. Look for inspiration, interactions, assessments, and more.
I recently provided E-Learning Narration: A Jumpstart Guide for Articulate to add to their library of samples. I hope you find it useful! If you haven't had the chance to check it out, please give it a look.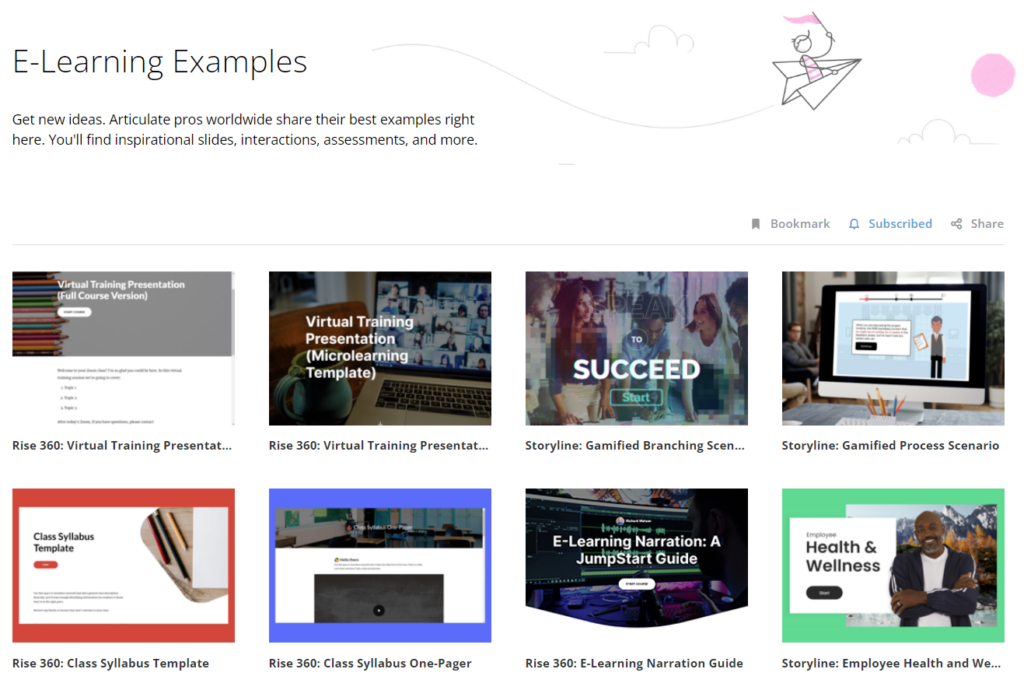 Conclusion
Well, that's the end of this post!. I hope you found the information useful and maybe found a resource you haven't looked at yet. Please let me know if you have any questions. I'm here to help!